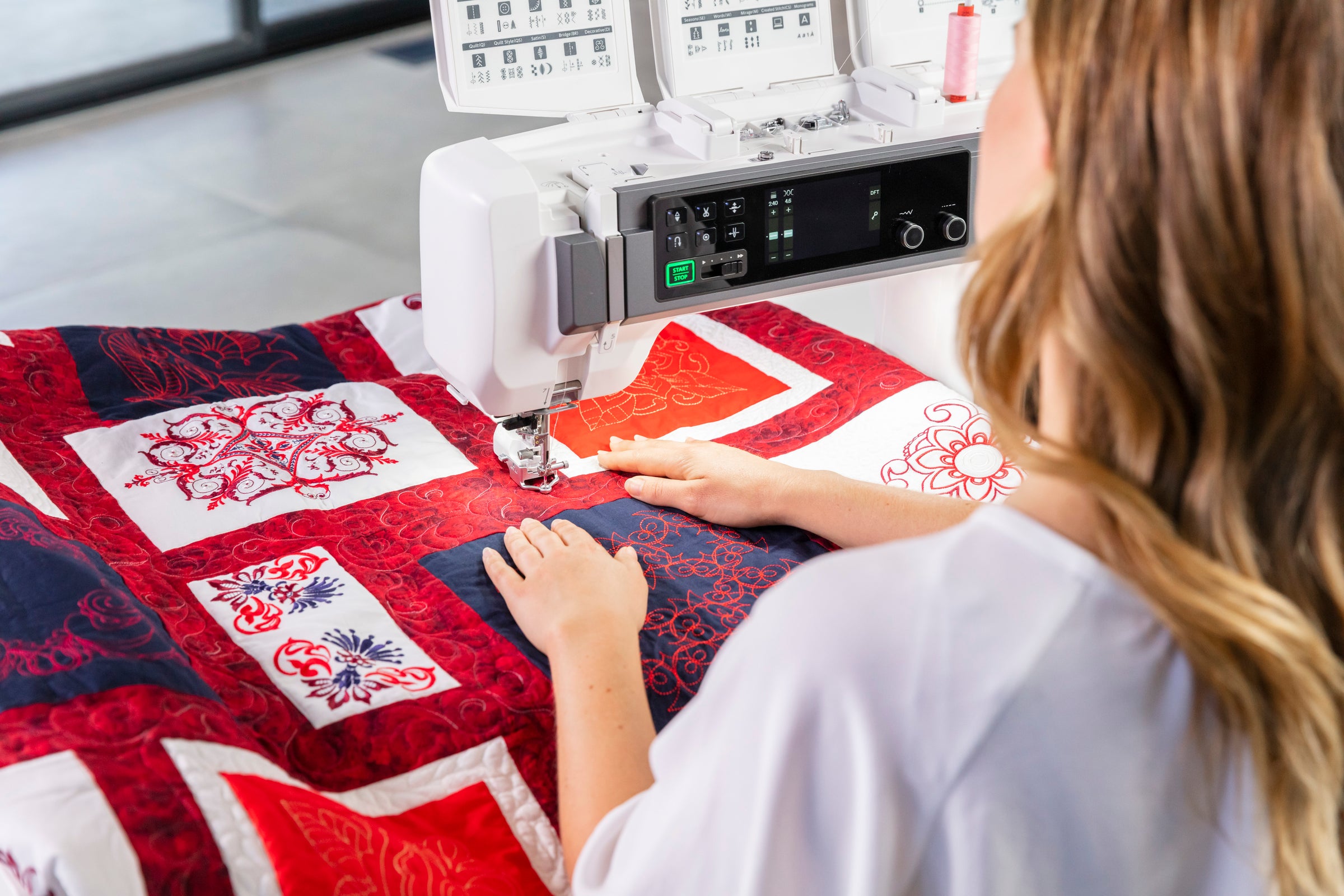 FULL SERVICE AUTHORIZED DEALER
Janome Sewing & Embroidery Machines
If you want a professional finish to your next sewing project, the sewing machine you choose can make all the difference. Beckie's Sewing Center carries a full line of Janome products because we are confident in their ability to provide you with a beautiful finished product.
We offer Sales, Education, and a great Tech Dept. Stop by or give us a call: 423-626-5337
Contact Us
Beckie's Sewing Center
We are very proud to offer sewing machines from Janome. These top-performing machines are reliable workhorses that have won awards for their superb design. We carry Janome sewing machines for all budgets and sewing interests, from our sturdy "starter" machines, all the way up to the state-of-the-art sewing/embroidery machines. We stock Janome feet & accessories. Because we want your sewing experience to be successful, included with your purchase are classes to guide you through the many wonderful features of your new machine.
SEWING & EMBROIDERY COMBO
Continental M17
Janome is proud to introduce the Next Generation Combo machine. Combining the top features of our most decorated machines to maximize your creative potential. The largest sewing area in the industry matched the largest embroidery space. High-Definition Quilting, and the Fastest Sewing speeds, are just a few of the 100 reasons to love this new model. The 10" High-definition color touch screen, plus ergonomically located line of sight screen, make stitch changes and embroidery easy and enjoyable. Introducing new features such as the Thumbwheel function means you can delicately control the needle position to finish those intricate sewing projects.

Over 1,200 built-in embroidery designs and the largest embroidery hoop in the industry at 30" opens up a whole new world of design capabilities. Five included embroidery hoops to use with built-in programs from monogramming to sashiko and everything in between. Janome original features such as AcuFeed, QuiltBlockAdvisor, and Artistic Digitizer are included. Let the Continental M17 take you to the highest level of your creative abilities.
Sewing Machine
Continental M7 Professional
Janome knows that today's sewists have changed the landscape of the sewing world. You have high expectations and want a machine that meets exacting criteria. Sewists, meet the Continental M7, a machine that has been thoughtfully designed to meet your needs. It has the largest sewing area in the industry, providing you with the room, light and line of sight necessary to create. The 7" high definition, color touch screen is ergonomically placed on the machine for easy access and reading. New features, such as computerized needle plate removal, an intelligent feed system and an advanced integrated upper feed system will make your sewing easier and faster while the newly designed brushless DC motor gives you the powerful sewing ability that you deserve. It's time to take your sewing to the next level and the Continental M7 will take you there.
Sewing Machine
Horizon Memory Craft 9450
You've devoted yourself to an art form that creates a legacy. You deserve a machine that is as serious about your hobby as you are. Let Janome's Horizon Memory Craft 9450 QCP Professional take your creations to new heights.

The Horizon Memory Craft 9450 QCP has all the features you require to simply sit, relax and sew. The large LCD color touch screen makes it so easy to navigate through the 350 built-in stitches, including 11 one-step buttonholes and 7 alpha numeric fonts including 9mm lettering and numbers. You can customize each stitch, including buttonholes, plus save as a favorite stitch. Sewing Applications gives you a variety of pre-set stitch functions, ready to sew zips, blind hem, buttons, quilting, rulerwork, patchwork and lots more.
Sewing Machine
Memory Craft 6700P
The Memory Craft 6700 Professional provides the speed and precision critical to advanced sewing and contains serious features for the serious sewist. Sewing speeds of 1,200 stitches per minute make the MC6700P one of the fastest Top Loading Bobbin machines in the industry. The 10" All-Metal Seamless Flatbed provides the perfect workspace for projects large and small. In addition, quilters can enjoy exceptionally smooth quilt piecing with the included AcuFeed™ Flex Layered Fabric Feeding System.
SEWING & EMBROIDERY COMBO
Skyline S9
The Skyline S9 is the first machine in its series to include both sewing and embroidery. This great machine includes Wi-Fi capability that makes it easy to send embroidery designs from an iPad or computer straight to the machine.
Sewing Machine
Skyline S7
The Skyline S7 has 240 built-in stitches, including 11 one-step buttonholes and seven alphabets. Quilters and designers will enjoy the AcuFeed™ Flex Layered Fabric Feeding System and the Automatic Presser Foot Lift. The 11 buttonholes can be customized for stitch width, stitch density and buttonhole opening. Along with that, the 7 alphabets also go up to a 9mm width with revised letter size and shape for increased realism and balance. Navigation through all of these features has become easier with the Skyline S7's LCD color touchscreen.
Sewing Machine
Skyline S5
A modern sensibility meets the comforts of convenience. The Skyline S5 includes the features to take your sewing to a new level. A spacious bed provides room for larger quilting and home dec projects. At the same time, its easy convenience features like Automatic Thread Cutter and Memorized Needle Up/Down will save you time and make your sewing easier. This computerized machine has top-of-the-line features at a mid-level price. Take your sewing to new heights with the Skyline S5.
Embroidery Machine
Memory Craft 550E
Janome's largest stand-alone embroidery machine, the Memory Craft 550E, is a perfect companion to your sewing machine. Personalizing your projects has never been easier or faster now that you can use the new RE36b hoop that provides an embroidery field of 7.9" x 14.2" with magnetic clips. Your built-in embroidery library contains 180 embroidery designs, that include classic designs, floral alphabets, in-the-hoop monsters and Sashiko designs. Add in 6 fonts, and the possibilities are endless. The MC550E comes with an extra wide extension table, four embroidery hoops, the already mentioned RE36b hoop, SQ20b 7.9" x 7.9", RE20b 5.5" x 7.9" and SQ14b 5.5" x 5.5".

Designs are easily imported through a USB and edited through the machine's advanced on-screen editing functions. Navigation through all of these features has become easier with the MC550E's LCD color touchscreen.
Serger
AirThread 2000D
Serging Simplified. Every project is easier with the right tools for the job, and the AirThread 2000D provides all the tools you need to deliver professional quality finishing. With Janome's One-Push Air Threading System the tedious threading of upper and lower loopers is a thing of the past. The 8-Piece Feed Dog System will easily grab and feed your fabric, from slinky knits to denim, the AT2000D will meet the challenges of your sewing projects.

The Built-in One-step Converter makes changing from 3-thread to 2-thread applications easier than ever. And with a built-in needle threader, manually threading your serger needles becomes easier than ever. One unit provides threading of both the right and left position needles.
Contact Us
Whether you have questions about Janome products, are interested in a demo, we want to hear from you.